Your money should work for you.
Get the latest tips on how to plan for retirement and make better financial decisions.
Don't worry... we will NOT spam you!
When planning to move, it's easy to let stress take over - sometimes so much that you miss ways you could be saving. There are a lot of factors that go into moving, such as are you changing states, what time of year will you be relocating, and how much stuff are you taking? The American Moving and Storage Association says that the average cost of an interstate household move is about $4,300 and the average cost of an intrastate move is about $2,300. With moving expenses on the rise each year, we've highlighted a few ways you can keep your money in your pocket and have your stress reduced before, after, and during your move.
Before Moving
About half of all moves take place in the summer, between the beginning of May and September. That means a move in the off-seasons is a great first step towards savings. When comparing prices with moving companies, you may notice a reduced price when shifting the time of year. Moving in the winter, the middle of the week or the middle of the month are the best times to save a little extra.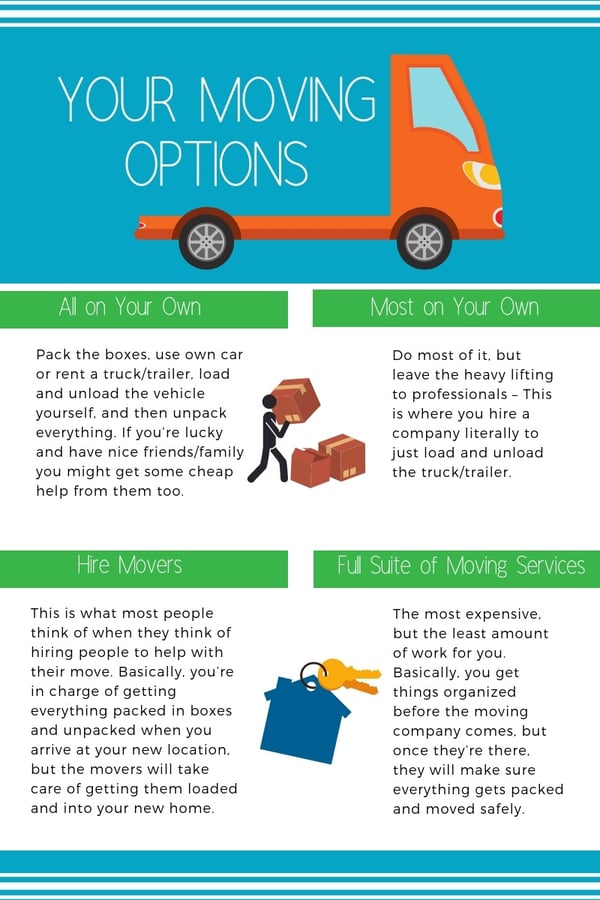 Pack yourself- if that's not a possibility compare moving companies for the best deal. Renting a moving truck will still be less expensive than hiring a company. Of course, we need to keep in mind not everyone will have the "power" to lift and move everything on their own, so if you need to hire a moving company, call and see if they offer any discounts or bargain deals before booking. Try to negotiate with your mover; it never hurts to ask whether they're willing to lower or match pricing.
Get creative with moving materials. Try using newspapers and magazines in lieu of packing peanuts and bubble wrap. Use your own blankets, linens, and rags as packing materials. You might be able to find free boxes at your local grocery store, retail store, or Craigslist instead of buying them new. If you can't find any freebies, you may also want to see if you can buy them used.
Sell or donate some of your unneeded stuff. Finally, moving is the perfect time to declutter and save some extra dollars. You can donate things you don't need and claim a tax deduction, or see about selling some of your nicer, rarely used items to a consignment shop or online. Whether you are moving yourself or hiring a company, reducing the amount you need to move can easily save you extra money.
During Moving
Roughly 35.5 million Americans move each year using everything from professional movers to old station wagons. The more work you can do yourself, the better. If you're fortunate enough to have friends or family in the area, ask them to help you move. A good reward could be pizzas or ice cream all-around for everyone after the strenuous move. If you're traveling a long way, you could also reach out to friends and family and crash at their places instead of getting hotel rooms.
After Moving
After moving, the next steps for saving can come in a variety of ways. We won't dive too deep into it but here are a few ways to continue saving after your move. First, keep a record of all home improvement costs, realtor fees, and moving donations. This could save you big money during tax season.
When something breaks in your home, try to repair issues by asking a friend or family member for recommendations, or do your own research before hiring an expert. According to the Harvard University Joint Center on Housing Studies, you'll have to pay 1 to 2 percent of the value of your home every year in maintenance and upkeep.
Before, all the moving ends, be sure to budget for any hidden fees. Many of the secondary costs of homeownership are surprises, including property taxes, insurance, and utility bills. According to a report by Zillow and Thumbtack U.S. homeowners can spend more than $9,000 per year on these hidden homeownership and maintenance costs.
If you're renting your new place an important spot to save is renter's insurance. It usually ranges from $10-$20 per month, depending on your location and what features your place has. A potentially easy way to save here is if you have insurance on your car or otherwise see if they offer any discounted bundle packages.
Moving and homeownership can be expensive, but there are plenty of ways you can save money. As always reach out to our team for any questions and check out MoneyNav for more money guidance on all aspects of your financial future.