Your money should work for you.
Get the latest tips on how to plan for retirement and make better financial decisions.
Don't worry... we will NOT spam you!
Adding a furry friend to the family is a big commitment, and before making any decisions you need to make absolutely sure you're ready for it. Depending on where you buy or adopt a puppy it can cost you on average for the first-year $1,270.
For me, my search and savings for my furry best friend started about two and a half years ago. I had just graduated college and knew one day I'd like to get to a place where I could mentally and financially handle getting a dog of my own. Just like many individuals coming out of college, I was slammed with a lot of student debt and was trying to find a job that allowed me to pay the bills. Affording a dog at that point was out of the question. While student loans continue to be a personal struggle for me, with the generosity of my parents I was able to stay at home and forgo the ridiculous rent prices of DC, ultimately helping me save for other aspects of my life.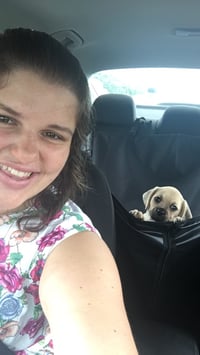 If someone asked me about my "dream dog", I would always answer either a corgi, puggle, or a bull mastiff. So when I learned about a puggle puppy looking for a home about three months ago, I felt like the timing was perfect. While I kind of completed the "getting a dog" steps backward (i.e. I still live at home with my parents), for my situation, it works for us all. I am able to sacrifice a portion of the rent I would be paying for my pet expenses instead. I brought my puggle puppy, Keelie Lovegood, home on August 3, 2018, and man is she adorable.
In this article, I'll talk about the expenses of a new puppy and the creative ways I found to save.
One Time Pet Expenses:
Adoption/Pet Fee: $450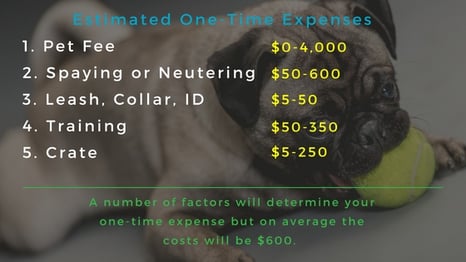 I got my puppy through a friend, so the pet fee was low. However, depending on where you're located and the breed of dog, this fee will be very different for everyone. I'd suggest you google and do thorough research from where your puppy is coming from before agreeing to anything. My cousin recently added a Golden Doddle puppy to their family that cost $3,200. For that high dollar tag, their puppy came with a two-year health guarantee.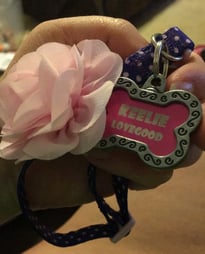 Leash, Collar, ID Tag: Leash-Free, Collar-$7 ID tag (engraving included)-$12
My leash was free because my Grandma had an extra one. The collar I bought from the Facebook marketplace and the ID was from PetSmart. These are essential for keeping your dog safe in case they run away or escape.
Bed: $5
Honestly, I wouldn't worry about buying a nice fancy bed at the puppy years because they'll most likely rip it up. I bought a very simple bed from Walmart to give her comfort but I won't be upset if it doesn't last long. Eventually, when she gets older I'd like to buy her a nicer bed.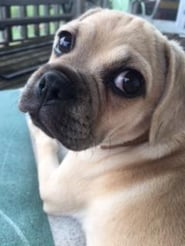 Crate and Travel Crate: $20 combined
Depending on where you look, a crate can cost a few hundred dollars. Since a puggle is a smaller breed I didn't need a huge crate, but I got these very cheap on Facebook Marketplace. They're in great condition and I was able to save a lot of money on this purchase.
Puppy Training: $116
Keelie isn't quite old enough for puppy training classes yet, but I've found places like PetSmart that offer weekly classes starting at $116. You can also look into local puppy classes.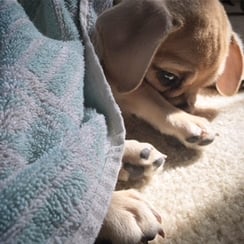 Grooming: Brush-$10, Nail Clippers-$6, Shampoo-$8
For grooming, every dog will be different. While some owners may opt to take their pet to a professional, I decided since Keelie has short hair we could handle her grooming. I brush her once a week, bathe her once a month, and clip her nails once every four weeks.
Recurring Expenses:
Food: $25 for 15 lbs bag (lasts 3 months)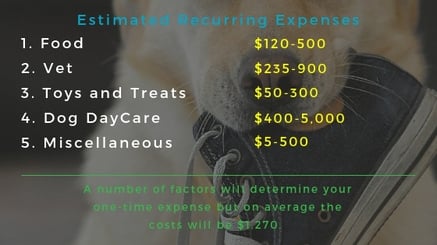 When I first got Keelie, they had been feeding her Purina Puppy Chow, and while a more cost-efficient dog food, I opted to go with Nutro puppy formula. It has much higher ratings and in the long run can help to keep your dog healthier.
Cleaning Products: $20 for three cans
Natures' Miracle. This stuff is amazing! Probably the best decision I've made so far because if she has an accident (and trust me it will happen) this product cleans the carpet so well it's like nothing ever happened.
Vet: $80 monthly (includes all vaccinations and spayed)
I went with a local vet, and while there are more frugal ways to get puppy vaccinations and check-ups, I enjoy and trust our vet, so we pay a little more than if we went to the ASPCA or a pop-up clinic.
Toys & Treat: $40
This is an estimation. I think when first deciding I was getting a puppy, toys and treats were the easiest place to go overboard. I bought some toys from PetSmart, Amazon, Walmart, and Facebook Marketplace. Can I tell you a little secret though? Her favorite toy to play with is a plastic water bottle. Also, I found out PetSmart stocks the discounted toys on Tuesdays, so just a heads up.
Doggy-Daycare/ Dog Walker: Free
I'm very close with my family and fortunate enough my now-retired Grandma watches Keelie for me while I'm at work. I drop her off in the morning and don't have to worry about her being lonely or getting into trouble at home. My Grandma takes care of my baby cousin and they have become the best of friends. On average, doggy-daycare will cost $20 a day if you aren't able to check on your puppy during the day.
How to Get it for Less:
Just like with any purchase, there are plenty of ways to save. Below I listed some creative solutions I've found useful.
Shop around for vets: Call vets in your area to see what their prices are like and ask if they have new client discounts. The vet I choose offered $25 off your first visit.
Look into Wellness Plans: Many vets and other places offer wellness plans for your pet. This can help you better budget for those vet expenses. Depending on the type of plan offered all of the vet visits, vaccinations, heart-worm medicine, and spay/neuter can be included. My vet offered plans as low as $35 a month that'll cover a lot of the first-year expenses. After, the first year your dog shouldn't have to visit the vet much besides staying up-to-date on shots and the occasional health check-up.
Facebook Marketplace: Such an amazing place! If you've never used it, I'd describe it as a virtual yard sale. People can post things they're selling and you just message if you're interested. If using the Marketplace, please use responsibly.
Stores Discounts/Coupons: Sometimes you can find better deals online for things you may need and a lot of pet stores will offer points and send welcome coupons. I signed up for a few programs and got $10 off my receipt, a free treat, and a "buy one get one free" toy coupon.
I started gathering my puppy supplies about a month before bringing Keelie home, but everyone's timeline will be unique. One thing I definitely can't put a price on is the companionship and love my puppy gives me every time I get home from a long day at work. It's a wild ride when getting a furry friend, so I wish you the best of luck!