Your money should work for you.
Get the latest tips on how to plan for retirement and make better financial decisions.
Don't worry... we will NOT spam you!
In celebration of National Retirement Security Week (and month) each member of our team wanted to share their favorite financial advice.
Alex Assaley:
"Automating your savings is one of the biggest benefits of a 401(k) or 403(b). I encourage investors to do this as they start, and progress, through their career – for both retirement and non-retirement financial goals. By saving small(er) amounts automatically, it takes out the emotional or behavioral decision-making and investors are happily surprised at how quickly their account balances grow."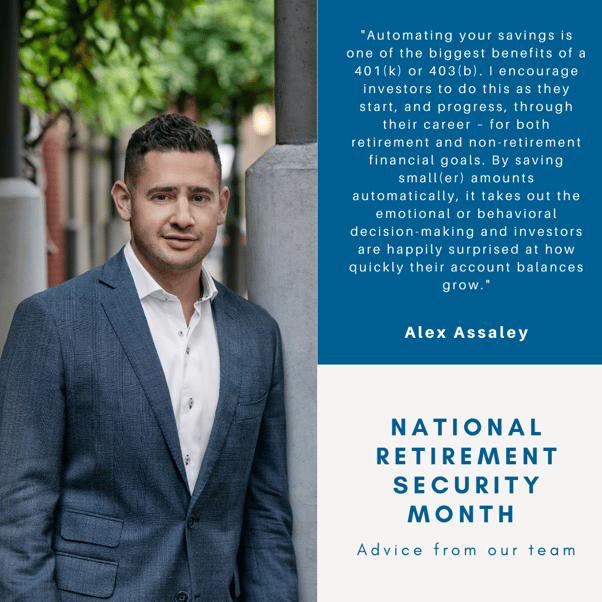 Allison Rosenberg:
"One thing I like to stress to young savers is that the most important money you save is the money you save in your 20s."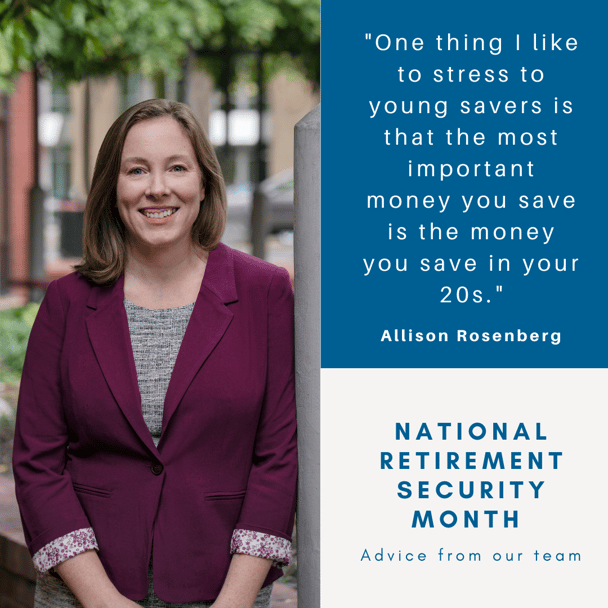 Jim Keenehan:
"Just as you might see your doctor on an annual basis for a checkup, meet with your organization's retirement advisor at least once per year. While it's possible (maybe likely) that no changes are needed, it's important to monitor your progress along the way."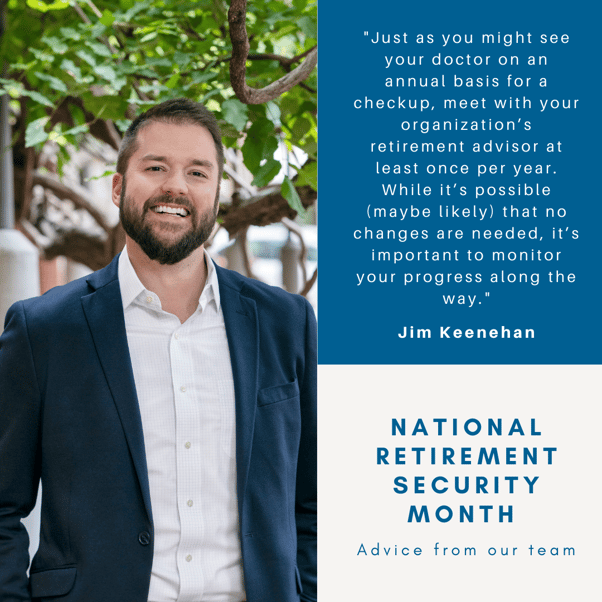 Beth Rehbehn
"Don't treat your retirement plan as an emergency fund. Instead, leverage the skills you've learned from saving for retirement and apply them to saving for a rainy day! This will help prevent you from potentially dipping into your retirement savings unnecessarily and will also continue to foster great financially healthy habits!"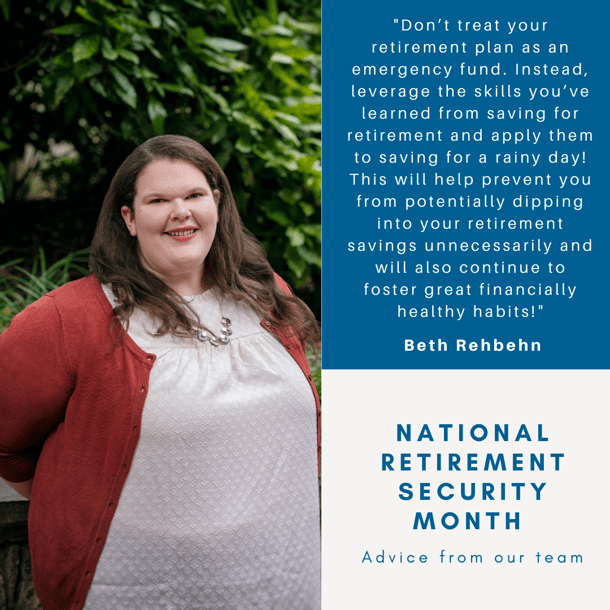 Kevin Phillips
"Passing of time is hard to show at the beginning but it is powerful for disciplined investors. Have a plan, stay on the plan, no matter what happens today."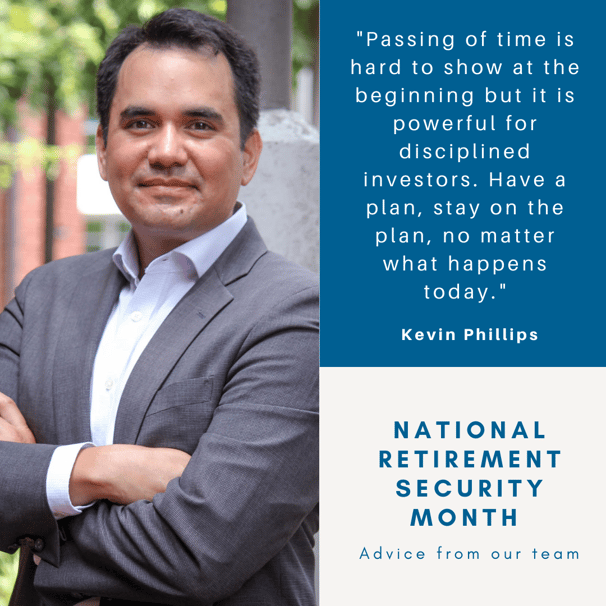 Cade Phillips
"While it is important to contribute to your retirement account, it's also just as important to make sure other parts of your financial life are secure. Building up your emergency savings, paying off high-interest debts, and funding your HSA's deductible are important steps to ensure that your finances are on track. Once these steps have been completed you are able to focus on retirement & goal-based savings and less on other financial stressors."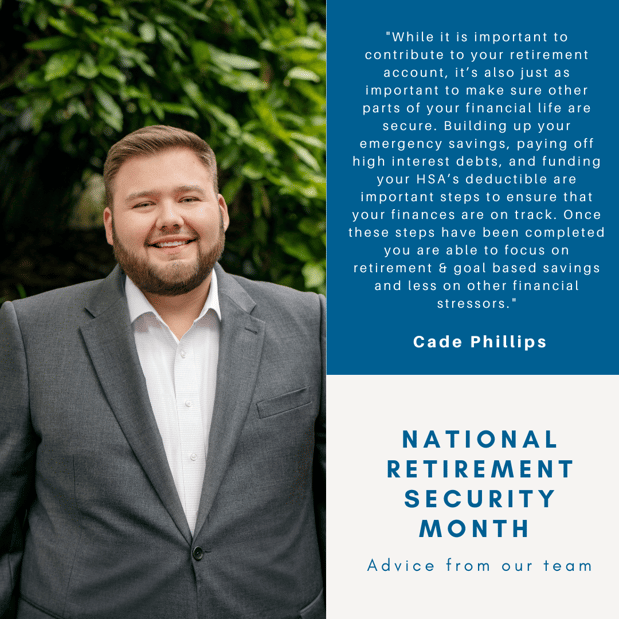 Alex Hsu
"If you have the opportunity, contribute money to a Health Savings Account (HSA). Everyone will encounter healthcare expenses in their lives, and an HSA is a great way to set money aside in a tax-advantaged way so that you can take care of your health and enjoy life in retirement."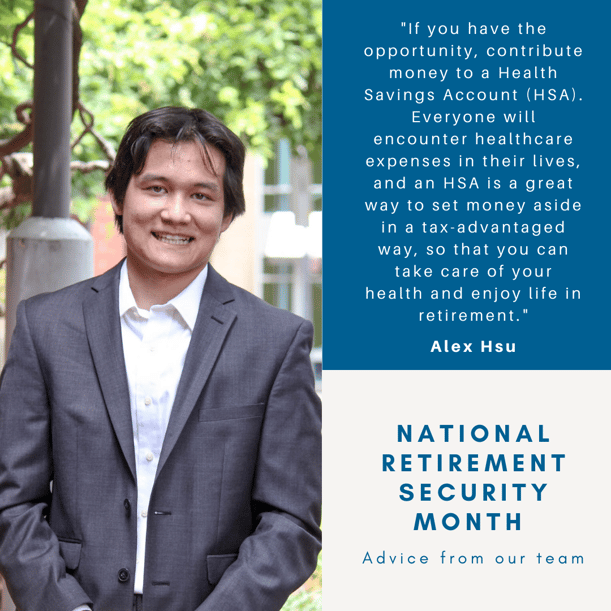 Commonwealth Financial Network® or AFS 401(k) Retirement Services does not provide legal or tax advice. You should consult a legal or tax professional regarding your individual situation.

Investments are subject to risk, including the loss of principal. Environmental, social, and governance (ESG) criteria are a set of non-financial principles and standards used to evaluate potential investments. The incorporation of ESG principles provides a qualitative assessment that can factor heavily into the security selection process. The investment's socially responsible focus may limit the investment options available to the investor. Past performance is no guarantee of future results